On April 26th we hit the "Ready for Sale" button in iTunes Connect for version 4.1 of our flagship iOS app.  This release was my first as Lead iOS Developer at Ulta Beauty, the culmination of weeks of hard work, and it includes some huge updates! The centerpiece of this release is Apple Pay, the easy, safe, and private way to pay for goods.  We implemented this feature in our bag page, making buying that new must-have palette as simple as pressing your thumb. (Yes, I quickly learned all about makeup palettes)
The Experience:
Integrating Apple Pay took a ton of work from multiple teams across Ulta Beauty. Being new to the company I had to rely on my co-worker's deep knowledge of our checkout experience to get me on-boarded, and together we worked closely to come up with a solution that satisfied our customers' needs.
Our Director of Mobility, Joe Rago, has said on a few occasions that "Nothing will help you find the skeletons in your checkout flow closet like implementing Apple Pay." This statement couldn't be more true. We had to rework many steps in our checkout flow to make sure the Apple Pay experience was seamless from start to finish.
Nothing will help you find the skeletons in your checkout flow closet like implementing Apple Pay.
After many hours of development, design, countless QA testing, and user-experience work we were ready for our first orders! My first production order was for 2B Colours Mega Colours Mini Nail Polish, which I sadly returned to the store. more testing!
Since launching the app update, we have been featured in the App Store multiple times, including the coveted App Store front page spot, and a promotional spot in the Shopping category carousel. A huge accompaniment for the team.
Featured in the App Store: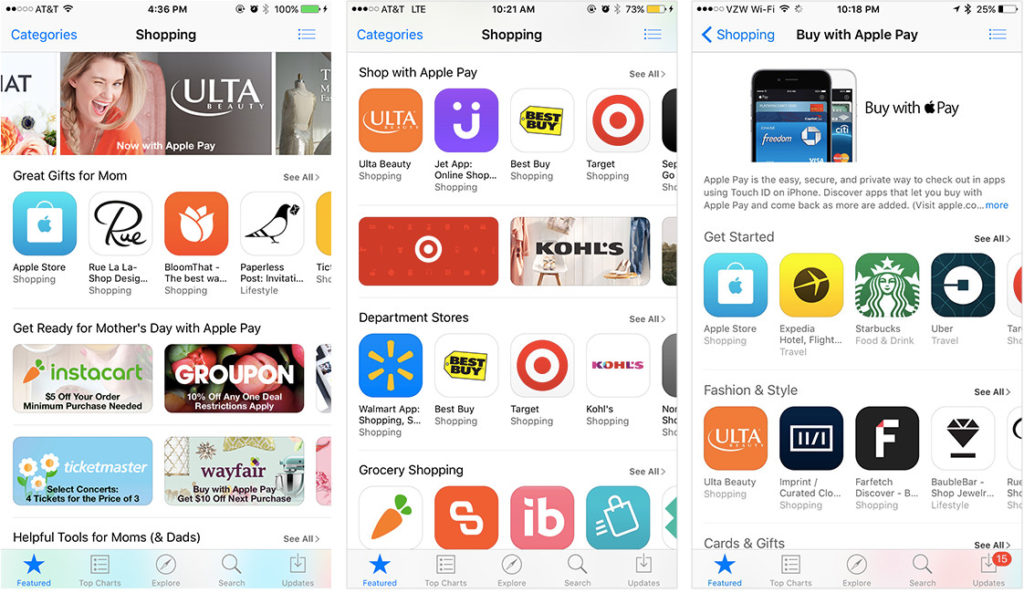 So I want to again thank the team for all the hard work on this first release, everyone involved stepped up to the plate and delivered. The hard work isn't over, we are continually improving the experience for our customers, and are excited for future releases.
If you haven't tried it yet, go ahead and download the app today from the App Store. You can now find all things beauty, all in one place & check out in a snap with Apple Pay in the new iPhone app from Ulta Beauty.